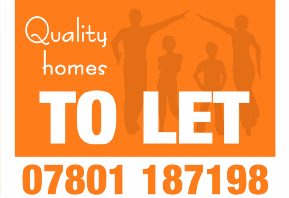 Quality homes to let in Swale


Frequently Asked Questions
1. DSS Questions
Do you accept DSS?
QUALITY HOMES only accept DSS tenants who are able to provide their own Security Deposit and First Month's Rent and a home owner guarantor, as we do not accept CASA Support's Security Guarantee scheme.
To contact us please click here.


2. References & Background Checks
Do you require references?
Yes we do. If you have been at you current property for quite some time then a recommendation from you current landlord will be enough. However, as a rule we would generally like to see 2 references.
How else do you approve my application?
The information you supply us of your income, is submitted to LetSure, who helps landlords to protect themselves against the unique risks associated with property rental. Letsure Ltd is authorised and regulated by the Financial Services Authority, Registration number 313817 and is also a member of the British Insurance Brokers Association (BIBA). Through LetSure the tenant's details will be checked with a credit reference agency for financial strength, with their employer for confirmation of their employment status and with their current landlord/managing agent to ensure they have paid their rent regularly and looked after the property.
Do you carry out any additional background checks?
Before taking on any potential new tenants, QUALITY HOMES do carry out formal home visits to satisfy us, the tenants are right for our properties and that our properties are right for our tenants. When conducting these home inspections, we are looking for clean and tidiness and evidence that home in general is being respected. Obviously, we dedicate our time and resources into presenting you with a home of the highest standards, so we mention this respectfully when say we are not looking to house unkempt tenants who will have no respect or allow a house to fall into a state of disrepair.
To contact us please click here.


3. Security Deposits & Fees
Do you require a Security Deposit?
Yes QUALITY HOMES do require a Security Deposit from tenants and this is generally calculated at 6 weeks rent. For example: 1 month's rent = £750.00 therefore 6 weeks Security Deposit is £1,038.00. Formula: =Sum(£750.00*12/52*6=£1,038.00)
Do you charge any extra fees?
Yes we charge a one off fee of £150.00, which we request at the time, when you submit your application. This fee is used to carry out a credit score rating on you and to cover you Security Deposit registration fee.
Will you register my Security Deposit with a goverment approved scheme?
Yes we do, it's the law. The Security Deposit is paid by the Tenant to QUALITY HOMES & although we retain the deposit, we register it with mydeposits. The law applies to Assured Shorthold Tenancies (ASTs) created on or after 6th April 2007 in England and Wales. If the tenancy started on or after 6 April 2007, the Tenant's deposit must be protected in one of the government-approved schemes. A formal certificate issued by the Scheme confirming protection of the Tenancy Deposit held by QUALITY HOMES which details some of the Prescribed Information required by the Act and a copy of which should be held by the Tenant. In November 2006, the UK Government appointed Tenancy Deposit Solutions Ltd to operate an insurance-based tenancy deposit protection scheme. Tenancy Deposit Solutions Ltd is jointly owned by the National Landlords Association and Hamilton Fraser Insurance. Hamilton Fraser Insurance is authorised and regulated by the Financial Services Authority (FSA Register entry)
When will I get my Security Deposit back?
You will only receive your Security Deposit back after you have vacated and cleaned, or if required in some cases decorated the house and returned the keys to us. For you to receive your deposit back in full, you need to present the house back to us in the same condition as it was let to you. However, we do allow 10% flexibility for wear and tear in favour of our tenants.
To contact us please click here.


4. The Tenants Right To Cancellation
If I decide not to go ahead with renting a house, will I get all my monies back?
Provided the tenancy agreement has not already started, you are entitled to get back from us, your Security Deposit and First Month's Rent, if we are already in possession of these. However, you are not entitled to a refund of the £100.00 fee, which would have been partly spent on your credit scoring and possibly used in registering your Security Deposit.
To contact us please click here.


5. Safety Certificates & Repairs
Does my home have an annual Gas Safety certificate?
Safety checks are carried out annually to ensure each gas-fired system in all properties pass the strictest of tests before certificates are awarded to each system. A GAS SAFE registered engineer carries out these strict tests annually. If you do not have a copy of the most recent Gas Safety certificate and require it, then you are able to download this at our website.
Does my home have an Energy Performance certificate?
All our properties have been awarded and certified energy performance ratings. If you do not have a copy and require it, then you are able to download this certificate at our website.
Do you supply appliances, such as fridges, washing machines etc?
If you require appliances, QUALITY HOMES can provide these if requested at the time when you view the property. However, although we offer insuring and repairing on cookers, hobs, radiators, boilers, pipe works, dampness penetrating from outside and electrical wiring, we do not insure and repair the appliances, which we have provided. Repair work for these appliances would be categorised by us under the fair usage policy and therefore would be the financial responsibility of the tenant to make their own arrangements to fix these appliances. We would only be entitled to remove these appliances at the tenant's request, should they no longer be required.
Will you fix my repairs?
Our team of dedicated and motivated decorators, plumbers & electricians work hard to ensure that all of our properties are maintained to the highest standards demanded by the modern family. QUALITY HOMES offer insuring and repairing on cookers, hobs, radiators, boilers, pipe-works, dampness penetrating from outside and electrical sockets & wiring, should any of these items falter through normal wear and tear. However, should any damage occur through misuse than responsibility of costs will revert to the tenants?
How soon will you fix repairs?
Our dedicated team prides itself on responding instantly to your needs from anything considered too trivial to act on by other landlords such as a leaky pipe or a blown over fence. In short we treat every situation as an emergency.
To contact us please click here.


6. Moving On
What's involved if I want to move from my current QUALITY HOME into another QUALITY HOME?
When more housing becomes available through us, tenants sometimes request that they be moved to a more preferred location within towns for schooling or work related reasons or simply to be closer to their families. We can happily arrange this, as we are always happy to accommodate our tenant's needs. We would simply ask you to present your current home back to us in a respectable condition, cancel your existing Tenancy Agreement and issue a new contract in relation to you new home. Obviously, where rents vary, we would either reimburse you the difference or ask you to make up the shortfall. Simple!
If I wish to move on, how soon can I give you notice?
Provided you are outside your tenancy agreement period, for example you have a 6 Month Assured Shorthold Tenancy Agreement (ASTs) and you are past these 6 months. Then you only have to give us 60 days notice. If you are only 3 months into your 6 Month Tenancy Agreement than you have you give us 3 months notice in order to allow the tenancy agreement to expire.
To contact us please click here.


7. Repossession
Can you give me notice, if so how long before I have to leave?
In the unlikely event that we would give you notice, the principle is the same as above if you were to give us notice. However we have to give you 48 days prior notice, from the day before you contract began. So for example if your Tenancy Agreement began on the 18th of any month, we would under the Housing Act 1988 have to serve a Section 21(4)a Notice Requiring Possession dated for the 17th of, for a period not less than 48 days away.
Under what circumstances would you serve Section 21(4)a Notice Requiring Possession?
We would only serve a tenant notice to vacate one of our properties under the following extreme circumstances…
Non payment of Rent
Damage or deterioration to Property
Illegal sub-tenanting, or lodgers not included on the Tenancy Agreement
Use of property for illegal or criminal activities
Conduct of tenants or visitors causing a nuisance or annoyance to neighbours.
Under the Housing Act 1988 you have served me with a Section 21(4)a Notice Requiring Possession, do I have to leave?
It is decreed, if the tenant does not leave the dwelling, the Landlord must get an Order for possession from the Court before a tenant can be lawfully evicted. The Landlord cannot apply for such an order before the Section 21(4)a Notice Requiring Possession has run out.
To contact us please click here.


8. Search Results & Incorrect Listing
Why do some properties marked Occupied still appear on the site?
We leave all our properties visible at all times on our web site. We do this to assist listings in the search engines, provide visitors to our site with as much information as possible including floor plans, room dimensions, community information, transport & road links, Gas Safety & Energy Performance certificates and we are able to indicate at the earliest opportunity when a house is likely to become available. All available houses will always list above those, which are indicated as occupied.
Why is my house still online when I have agreed to rent it?
If you have exchanged contracts but not yet moved in, or paid to us your Security Deposit and First Months Rent, your home could still appear on the site as "Available to Rent". If you have completed contracts, paid your dues and moved in, then your home will still appear on the site and listed as "Occupied". If this is not the case, please contact us and make sure we update the status of your home on QUALITY HOMES.
I asked for details on a property but haven't heard anything yet. What should I do?
We're sorry if we have not contacted you promptly and replied to your request. This may be because we never received your query by fax or email and we are constantly working with our all our enquiries to insure that we have quickly responded to queries. If in the event you have not heard from us, the best way to make sure your queries are answered immediately is by calling us directly.
Why don't all the properties listed have full details and photos?
Sometimes, we might want to post a newly available property before we have had an opportunity to take photographs or prepare a full description. If you want more information on a property you have seen on QUALITY HOMES, we recommend that you contact us directly.
Why doesn't your search recognise the location I typed in?
The most common reason for this is misspellings. Double check your location to make you spelled the place name correctly, or entered the postcode correctly. If you believe a place name should be recognised and it is not, please contact us.
My search, which included my area plus a few miles around, returned unexpected results.
Our radius search is not based on radius from the centre of a location, but from the borders. This means that your search area may be larger than your expectations. To combat this, we suggest reducing your radius size to take the borders into account.
Why did you change the design of the site?
We changed the design of the site for several reasons:
to make the site faster
to improve the way you can search for properties
to improve navigation
to give the site a fresher look
to make our pages more flexible
to comply with new accessibility guidelines required under the Disabilities Discrimination Act
The details of my house on QUALITY HOMES are incorrect. What should I do?
We write, update and post all our property details to our web site independently. In the event, you are aware of an error, it is best to contact us directly to inform us of the errors in the description.
To contact us please click here.
I have a question that is not covered here, how do I get an answer?
To contact us please click here.