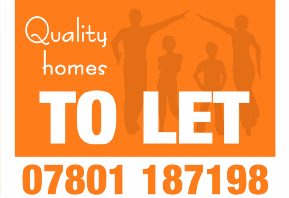 Quality homes to let in Swale


About Quality Homes
Our Success:
Quality Homes were established in 2006 and have grown since to become a significant market leader in the rental market of residential property letting in the Swale area. We have achieved this largely due to offering quality modern housing to families at competitive pricing. By the end of 2007 the company has successfully accumulated, refurbished and renting 10 homes to families within the Sittingbourne Area. At the end of 2008 we extended our purchasing of houses into, Newington, Teynham, Queenborough, Warden Bay and Sheerness. Lee Warner who is supported by a dedicated team of decorators, CORGI registered plumbers & electricians runs the company. Lee Warner grew up in Sittingbourne and has been buying and renting property in the area since 2006. Together with his team he is able to offer newly redecorated homes to families at affordable rents and at the same time offer.
Quality Homes are able to offer an extensive rental package, which includes:
Website:
All of our properties are listed on our web site, the most comprehensive and informative property website in the area. Access colour photographs, both internal and external, access gas safety and energy performance certificates, location maps, access aerial photographs and obtain detailed, independent information about the area.
7 Days a Week:
Although our offices are open 5 days a week, we are contactable 7 days of the week. Our contact details are registered here.
Office Hours Weekdays 9:00am to 5:00pm
Local Media:
We continually advertise our properties in the local media, which includes the East Kent Gazette and the Kent Messenger Group newspapers.
Team:
Our team of dedicated and motivated decorators, CORGI registered plumbers & electricians work hard to ensure that all of our properties are maintained to the highest standards demanded by the modern family. Safety checks are carried out annually to ensure each gas-fired system in all properties pass the strictest of tests before certificates are awarded to each system. Additionally all our properties have been awarded and certified energy performance ratings. Also our dedicated team prides itself on responding instantly to your needs from anything considered too trivial to act on by other landlords such as a leaky pipe or a blown over fence. In short we treat every situation as an emergency.
Living Conditions:
All properties owned by Quality Homes are decorated throughout to the highest standards before we would invite you and your family to occupy them as your home. Our team of dedicated and motivated decorators, plumbers & electricians work hard on redecorating homes. When refitting homes no expense is spared to achieve the look of a brand new modern home. The benchmark for our excellent standards is if Lee Warner believes upon inspection of these completed refurbishments, he does not feel comfortable occupying the house personally, then he within himself cannot feel right about inviting anyone else to do so.
Market Leaders:
Quality Homes now hold a significant market share of properties being rented in the Swale area across all price ranges. Our breadth of experience in all price ranges is unrivalled.